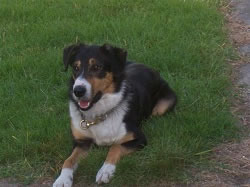 The Hunterville Vet Club carries out all routine small animal services. Our strength is in the area of working dog health, especially traumatic injuries and orthopaedic cases. Our experienced staff are also very capable with all soft tissue surgery and sick animal case work ups. We are fortunate in being handily located to two diagnostic laboratories in Palmerston North and with our daily courier provider we have an efficient turnaround time on results from diagnostic samples.
Furthermore, New Zealand's only Veterinary School "Massey University" is located in Palmerston North. On staff are many specialists in their field providing a fantastic phone consultation and referral service.
We offer long term kennelling facilities for difficult cases or where outcomes can be improved through 24 hour observation and control of the animal.